Watch the first session for free! See below.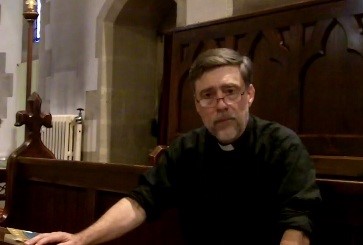 Rev. Beckmann in the choir of Holy Trinity Church, Headington Quarry,
the home church of C. S. Lewis
At the end of his life, in 1963, C. S. Lewis finally wrote a book on prayer. I say "finally," because he had been thinking about it for many years. Lewis struggled with prayer. He did so, not only intellectually, but also - as we all do - because of the pains and difficulties that he encountered through his life.
Christian trials are always trials of faith and obedience, and we work those things out with God in prayer. If you are a Christian, prayer is critical for your life and walk with God. You sense that you need to learn all you can about it. The best way to do this is to learn from people who have practiced prayer for many years, like C. S. Lewis.
We need different truths at different times. The lessons we can learn about prayer from others will differ from person to person. Lewis had his questions and found his own answers about prayer, and if you have benefitted from his writings about other subjects, you should benefit from Letters to Malcolm as well.
"David Beckmann knows Letters to Malcolm intimately and brings not only a keen literary awareness to his analysis, but also a pastor's heart. The light he sheds on this difficult last book of Lewis's is extremely helpful and welcome."
Dr. Michael Ward, author of Planet Narnia
Click on this link to hear an interview with Rev. Beckmann on the "All About Jack" podcast.